Welcome to the Hof Haus Online Market
Prices include tax & shipping within the continental U.S. Shelf life is five weeks, refrigerated. Please allow seven days for delivery. Express shipping available upon request. Order below or call us directly at 1-800-923-HAMS. Thank you.

We accept all major credit cards as well as electronic checks.
Hof Haus, home of Hofmeister ham, produces the finest quality of ham and turkey products. Our products are produced from the most select meat sections which are always fresh, never frozen. Each product is then delivered to you in a specially designed container ready to heat and serve. We also include our signature ham glaze for that special finishing holiday touch.

Boneless Ham
This Old World smoked ham is renowned for its distinctive smokehouse flavor and rich golden brown color. It is made from select butcher-type meat and trimmed to perfection.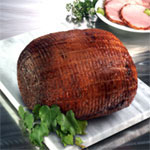 Whole 10-8 lbs $90 or 4-5 lbs Half Ham $70

Semi-Boneless Ham
Our Semi-Boneless style ham is named for the center bone which remains in this traditional dinner ham, adding to the delicious taste. It is a bestseller around the holidays for its elegance and easy carving style. Try the leftover bone for soup, great for those post holiday meals.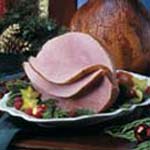 X-large 14-17 lbs $90, Whole 12-14 lbs $80 or Half Ham 6-7 lbs $60
Smoked Turkey
Our name may say "Hams," but we offer whole smoked turkeys, too! Each one is carefully selected, fully cooked and Premium-smoked using the same Old World Techniques. Our Smoked Turkey is only available during the Thanksgiving and Christmas holiday season - so place your order today to ensure holiday arrival!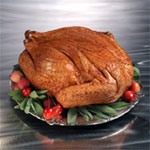 Ham Du Jour™
Our Lean and Tender "Ham du Jour" is a lightly smoked Boneless Black Forest ham. Its convenient size is perfect for your holiday dinner, as ham steaks or as a gift for friends and co-workers. Also, the "Ham du Jour" is perfect for leftovers to make the most delicious ham sandwich your mouth has yet to venture.