Welcome to the Hof Haus Online Market
Prices include tax & shipping within the continental U.S. Shelf life is five weeks, refrigerated. Please allow seven days for delivery. Express shipping available upon request. Order below or call us directly at 1-800-923-HAMS. Thank you.

We accept all major credit cards as well as electronic checks.


Semi-Boneless Ham
Our Hofmeister smoked hams are renowned for their distinctive flavor and rich golden brown color. Our hams are produced from meat-type butcher hogs, the meat is never frozen, each ham is vacuum packed for extended shelf life.

Our Semi-Boneless style is named for the center bone which remains in this traditional dinner ham, adding to the delicious taste. It is a bestseller around the holidays for it's elegance and easy carving style. Try the leftover bone for soup, great for those after holiday meals.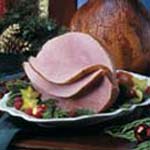 Whole Ham: (12 to 14 lbs.) $64.95